Why Does your Car Need to be Detailed?
Most drivers visit their local gas station car wash a couple of times a month, but what they don't know is that those types of public car washes use a lot of harsh chemicals. Besides, different makes and models require different types of cleaners and solutions. The cheap gas station car wash is a quick one-stop-shop, but our detail experts will take their time and give your car tender love and care.
Attleboro, MA drivers may notice damage to their cars over time if they keep using gas station car washes including visible wear to the trim, plastic, rubber and paint. With Anchor Nissan car detailing, you can sleep easy at night knowing none of those things will happen to your vehicle while it's in our possession. We clean with microfiber cloths, gentle cleansers and solvents, and solutions that will help your paint last for years to come.
We regularly offer service specials, so make sure you bookmark this page for future offers. Schedule service with our experienced technicians at your convenience and we'll have your car looking like new in no time.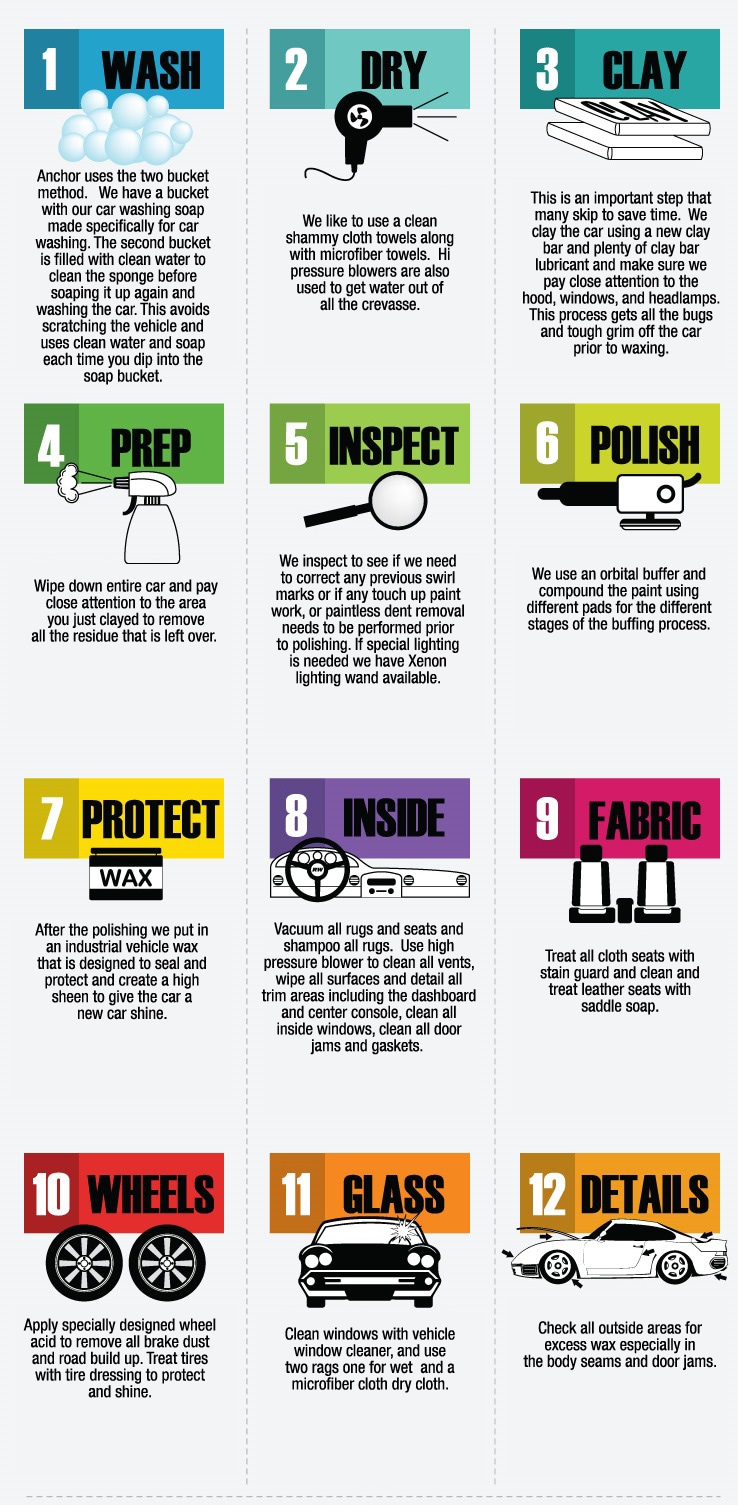 Step #1 Wash
Anchor uses the two bucket method.   We have a bucket with our car washing soap made specifically for car washing.   The second bucket is filled with clean water to clean the sponge before soaping it up again and washing the car.   This avoids scratching the vehicle and uses clean water and soap each time you dip into the soap bucket. 

Step # 2 Dry
We like to use a clean shammy cloth towels along with microfiber towels.  Hi pressure blowers are also used to get water out of all the crevasse. 

Step #3 Clay
This is an important step that many skip to save time.  We clay the car using a new clay bar and plenty of clay bar lubricant and make sure we pay close attention to the hood, windows, and headlamps.   This process gets all the bugs and tough grim off the car prior to waxing. 

Step #4 Prep
Wipe down entire car and pay close attention to the area you just clayed to remove all the residue that is left over. 

Step # 5 Inspect
We inspect to see if we need to correct any previous swirl marks or if any touch up paint work, or paintless dent removal needs to be performed prior to polishing.   If special lighting is needed we have Xenon lighting wand available. 

Step #6 Polish
We use an orbital buffer and compound the paint using different pads for the different stages of the buffing process.

Step #7 Protect
After the polishing we put in an industrial vehicle wax that is designed to seal and protect and create a high sheen to give the car a new car shine.

Step #8 Inside
Vacuum all rugs and seats and Shampoo all rugs.  Use high pressure blower to clean all vents, wipe all surfaces and detail all trim areas including the dashboard and center console, clean all inside windows, clean all door jams and gaskets. 

Step #9 Fabric
Treat all cloth seats with stain guard - clean and treat leather seats with saddle soap.
 
Step #10 Wheels
Apply specially designed Wheel acid to remove all brake dust and road build up. Treat tires with tire dressing to protect and shine.

Step #11 Glass
Clean windows with vehicle window cleaner, and use two rags one for wet  and a microfiber cloth dry cloth.

Step #12 Details
Check all outside areas for excess wax especially in the body seams and door jams,


Why you Should get your Car Detailed at Anchor Nissan
Finding the perfect vehicle can sometimes seem like a never-ending adventure, but thankfully, the hard part is over. All you have to do is maintain it, and that's why we're here. Our detailing service takes about four hours. North Smithfield, Providence, Johnston, and Cranston, RI drivers can visit us anytime, and our 15 detail technicians from our service department will help bring your car back to showroom perfection.