State creates new plates for electric vehicles
Anchor Nissan proudly shows off one of its 3 charging stations for electric vehicles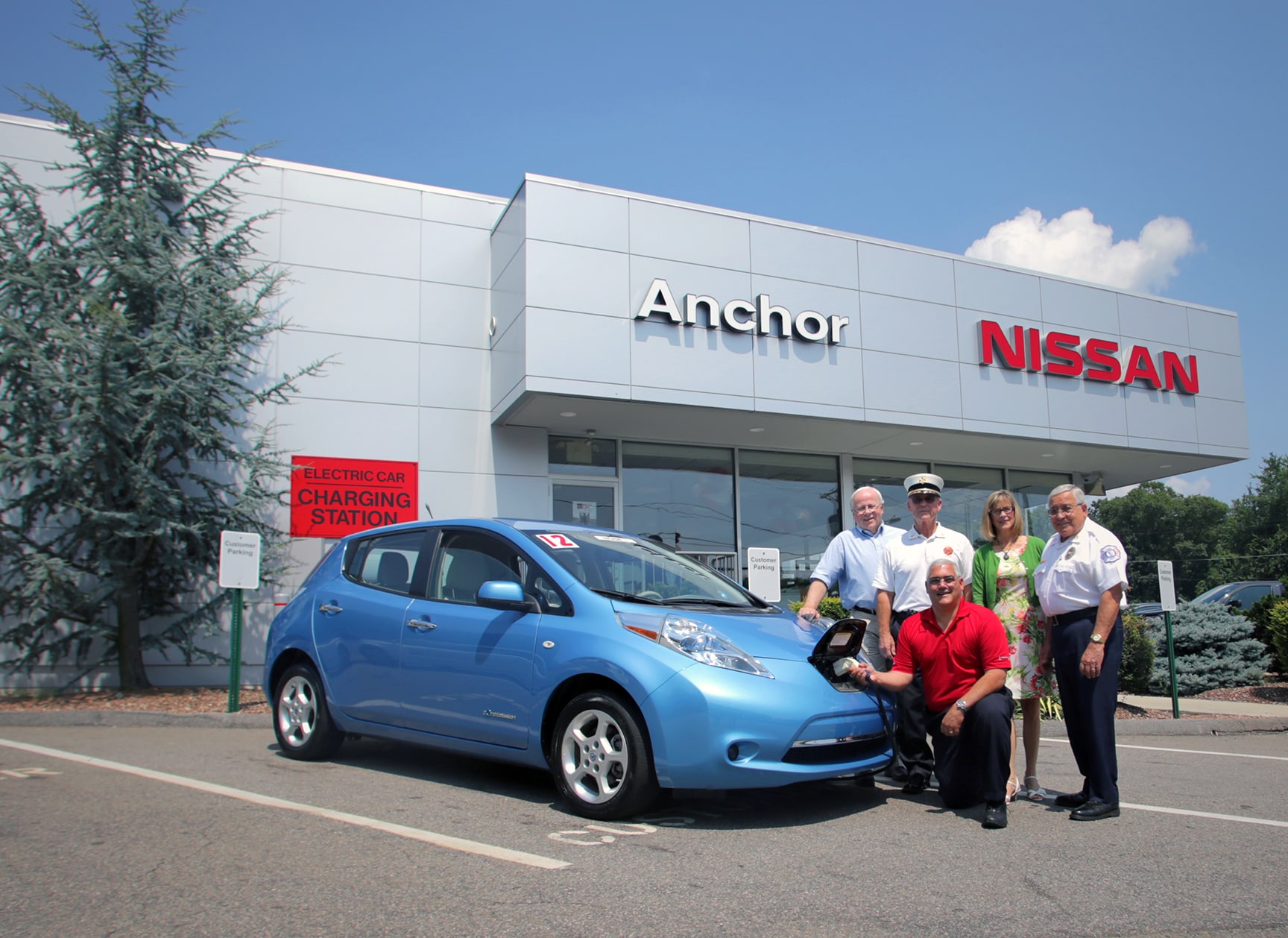 No. Smithfield officials work together to protect first responders
NORTH SMITHFIELD - Rhode Island has created a new license plate for electric-powered vehicles thanks to the coordinated effort of several local officials, and their work just might save lives.
A bill creating the special license plates was signed into law by Gov. Lincoln Chafee last month. The legislation, which was sponsored by Sen. Edward O'Neill, is aimed at giving first responders and emergency crew members a warning when they encounter an electric vehicle so that they don't accidentally electrocute themselves while using jaws of life to extricate passengers from wreckage.
"It's so they can quickly identify the vehicle has a high-voltage line running along the bottom of the car," explained Town Planner Robert Ericson, who first prompted O'Neill to sponsor the bill.
"It is not very well-known that rescue workers can get electrocuted from using jaws of life on an electric vehicle, but when that information came to light I wanted us to be proactive about the issue," said O'Neill, who represents District 17 in Lincoln, North Providence, and North Smithfield. "What is happening out there is our police, fire and rescue workers, along with tow truck operators, sometimes get to a scene of an accident and don't know whether they're dealing with an electric or hybrid vehicle. The legislation allows first responders to determine what instrument is appropriate to use for the rescue of those trapped inside electric vehicles quickly, simply by looking at the license plate."
The plate will have the words "Electric/Hybrid" below the plate number, where the words "Ocean State" normally appear.
Ericson first heard of the danger, and the effort to address it, at a conference on electric vehicles put together by Wendy Lucht of Clean Cities at URI. As the owner of a Honda Insight, the town planner had a personal interest in the topic, and listened when a man behind a similar effort in Massachusetts discussed the importance of involving dealership owners, who can make the buyers of hybrids aware of the plate option at first registration.
In North Smithfield, that means the involvement of people such as Bob Benoit, owner of the Anchor Auto Group, who sells some electric vehicles, and installed an electric charging station in front of his Nissan dealership back in 2011.
"Since most of the dealers do first registration it's important that we work with them to make the option clear," Ericson said.
The planner said he also spoke to North Smithfield Fire Chief Joel Jillson about the issue, and Jillson was able to marshal statewide fire chief support for the bill hearing.
"He was gung-ho and thought it was really important," said Ericson. "At that point, I thought, 'why not make it a town project?'"
O'Neill said that House Minority Leader Brian Newberry played a crucial role in gathering bi-partisan support for the legislation in the state Senate. Senators Marc A. Cote, Paul W. Fogarty, Nicholas D. Kettle and James E. Doyle II cosponsored the legislation.
The plates will be made available at no additional cost upon first registration of an electric or hybrid vehicle starting this fall. Those switching from an existing plate will be charged $21.50, unless they want to keep the same plate number, which will cost $31.50.
"You want to tell people you have an electric car, and it makes it more distinguishable," said Ericson. "People will realize that they're better protected by having that plate."
An event at the Garden City Shopping Center in Cranston during National Drive Electric Week will be aimed, in part, at increasing public awareness of the new license plate. The event will feature an electric vehicle show, where drivers from across the state are invited to park and show off their cars; a showcase and ride and drive displaying some of the latest electric vehicles; a raffle for a Garden City gift card; and an end of the day concourse, where the electric cars exit the parking lot in a procession and head toward the next charging station in Rhode Island. Currently, there are 60 such charging stations statewide.
The event will take place on Saturday, Sept. 20 from 12 to 3 p.m. at 100 Hillside Road in Cranston. To learn more, or register to take part, visit driveelectricweek.org .
Ericson hopes to organize a separate event in North Smithfield, and points out that the town's role in pushing the legislation forward is in keeping with the mission of growing a green community.
"North Smithfield has a reputation for being at the forefront in energy conservation," Ericson said, giving credit to all who had a part in the effort.
"This was a North Smithfield project," he said. "It was the coming together of all the different parts."