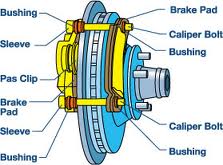 It's just as important for your vehicle to stop as it is to get moving, which is why your brakes are such a crucial and important part of your car. Here at Anchor Nissan we know that sometimes it's easy to put off servicing or repairing your vehicle, however, doing this can greatly damage your vehicle and put you in danger. If your vehicle needs some brake work that you're pushing aside, then hesitate no longer because our service center is here to save the day.
Our onsite service and repair center is here to cater to drivers throughout North Smithfield, Providence, Cranston, Johnson, Attleboro and beyond, especially when it comes to brake work. You can thoroughly rely on our team to deliver the most skill and attention to your brakes, repairing them with certified parts. Whatever kind of brake work your vehicle needs, we're here to make sure that it's done correctly, efficiently and with a certain kind of expertise that you'll only ever find here at our service center. Our mission is to keep our customers safe on the road, enjoying their vehicles for many years to come. That's why paying attention to the issues your vehicle presents is so important. You can prolong your vehicle's life exponentially by paying the proper attention to even the smallest inkling of an issue.
Your brakes are so important, they keep you safe as well as your fellow drivers. If you need to schedule a brake appointment at our service center for your vehicle, then please do so online or by giving us a call at (855) 458-4592. We'll make sure we get to work right away because we know how important your vehicle is to your day-to-day activities.
Before you give us a call or schedule your appointment, make sure you check out our service specials. You may find another service or deal that your vehicle could greatly benefit from while it's being worked on by our excellent team of service technicians.
ALL ABOUT BRAKING SYSTEMS
Today's braking systems are composed of a number of integral parts all working together to ensure that your vehicle stops properly. Generally speaking, by depressing the brake pedal, you are telling the master cylinder to compress brake fluid, which in turn sends hydraulic pressure through brake lines that activate your vehicle's brake pads (or shoes). These pads (or shoes) then make contact with spinning rotors (or drums), slowing down or stopping the vehicle. More complex systems use sensors to activate the brake system, but the net desired effect is the same.
The parts that make up your vehicle's brake system wear down over time and eventually need to be replaced. The most common brake repair performed is the replacement of brake pads (or shoes). Whether composed of ceramic, semi-metallic, or organic materials, brake pads erode each time you depress the brake pedal. If the pads wear down too much without being replaced, the metal housing for the pads will make contact with the metal rotors (or drums), which may produce not only a safety issue but a situation where the rotors/drums are required to be replaced as a result of the prolonged contact of metal parts without the pad buffer.  Anchor Nissan has all the genuine Nissan parts you will need to make sure your Nissan stops in time.  You can either schedule a time for our certified Nissan Factory trained technicians to repair and or maintain your brakes or you can order the OEM parts from our parts department.   You can pick them up from our dealership or we can ship the parts to you.  We are just a short drive from North Attleboro, South Attleboro, Providence and Warwick.   Visit our
Nissan service
page to schedule an appointment online.
TIME FOR BRAKE SERVICE?
There are several warning signs that your vehicle can give you before your brakes may reach the point of potential failure or extensive repair. Simply using your sense of hearing, sight and touch may alert you to a potential problem. Here are some of the common questions you should ask yourself concerning your vehicle's brake system:
Does your brake warning light come on when you are driving?
Is your brake fluid low? Does it appear very dirty?
Do you hear a grinding sound or a squealing sound when you apply the brake pedal?
Do you feel a pulsation or some sponginess in the brake pedal when it is depressed?
Does your vehicle steer or pull to one side when braking?
These are the most common signs that can suggest a potential brake system problem that should be addressed. Any other sights, sounds or sensations in the brake system that seem out of the ordinary should also be taken into consideration. Most times, brake system problems will only escalate if disregarded.